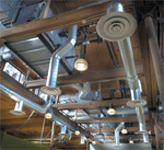 Overview
SIGMA Engineering is a full service Mechanical Engineering/Consulting firm located in Sacramento, California. Founded in 1997, the firm consists of a staff of eight. We are licensed to practice engineering in California, Nevada, Florida, and Oregon, and maintain general and professional liability insurance.
We offer Mechanical, Plumbing and Fire Protection Engineering to architects, building owners, design/build contractors, building and facility management, and various public and private engineering departments. We have provided services to the public sector including the federal, state, county, city, and school district level.
The 3 principals of Sigma Engineering have a combined 56 years of experience designing all phases of HVAC, plumbing, water/waste distribution, and fire protection systems. We prepare outline and detailed specifications, schematic and construction drawings, life cycle cost analysis, and Title 24 compliance reports for projects in both the private and public sector. All engineering designs comply with current Uniform or California Codes, as well as the Office of Statewide Health Planning and Development Code (OSHPD), as applicable.
Sigma Engineering is staffed by a LEED accreditation professional. A LEED registered building is awarded one LEED point when Sigma Engineering is part of the design team. We are also proud partners of the Energy Star program.